Teeth Whitening
Teeth Whitening is a convenient and affordable way to achieve a beautiful white smile.
Is your smile as bright and white as you would like it to be? If you have tried to achieve a brilliant smile by using over the counter at home whitening products but have been disappointed by the results, then at home whitening kits provided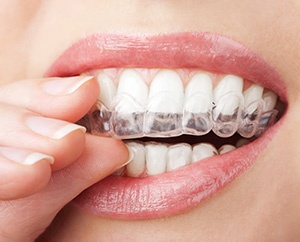 by a dentist may be a great option. Dr. Larry Picard and his knowledgeable staff help patients to get stunning, white smiles with at home whitening kits that they've been hoping for, and will be more than happy to help you with all of your dental needs.
What is teeth whitening?
Bleaching lightens teeth that have been stained or discolored by aging, certain foods and beverages, and smoking. Teeth that have been darkened as a result of trauma or the use of particular medications can also be benefit from teeth whitening, but the effectiveness of a bleaching treatment greatly depends upon the degree of staining that is present.
You will typically begin seeing results from at home teeth whitening kits as early as one week after starting the treatments, though some patients who have more resistant stains may have to wait about two weeks to see results. To ensure that you are able to get the maximum results from your at home whitening kit, its recommended that you avoid any foods or liquids that tend to cause staining, especially during the two week treatment period. Wine, coffee, certain juices, and sodas are all examples of things that you may want to avoid, as they usually result in staining.
What are the benefits of at home teeth whitening?
One of the primary benefits of at home teeth whitening that you can get from your dentist is that you able to perform the teeth whitening treatments in your very own home. Another great advantage of at home kits is that it is typically more economical than other teeth whitening treatments that are currently available. You can conveniently achieve a bright white smile and improved oral health. At home teeth whitening kits are also safe, and you can use it with confidence, knowing that the solution that has been provided has been recommended by a highly trained dental professional.
What is the at home teeth whitening procedure?
Impressions of your teeth will be taken in-office, in order to make custom bleaching trays for you to take home. This process can take up to 2 weeks, during which time the lab will produce trays that will snugly fit your teeth and be comfortable. Once the trays have been sent back to your dentist, another appointment will be scheduled, at which time he will demonstrate how properly use the at home teeth whitening system.
These in-home treatments last longer, are less invasive, easier to use, and more comfortable than teeth whitening treatments that are performed in-office. In addition, in-office treatments typically make the teeth more sensitive and the results will fade much more quickly. Though the in-home treatment process is slower, the results are usually much better.
If your smile can benefit from at home teeth whitening, call 310.479.4500 or email our West Los Angeles dental office to schedule your first appointment with Dr. Larry Picard DDS. He and his friendly, trained staff can help you to get that brilliant white smile that you've always dreamed of.